Effective Upholstery Cleaning
10/17/2016
Back To Blog
We naturally don't want to think about the fact that upholstery is like a sponge when it comes to collecting dust and dirt. The good news is there is a lot you can do about it – and it won't be hard. Read on and use the upholstery cleaning tips and tricks shared here below.
Know Where You Stand
Always check what types of cleaners can be used on your furniture. There is a letter indicating this on the label. If you find the letter X, this means that the upholstery can receive cleaning with professional-grade products and equipment only. What you can do on a weekly basis, however, is to vacuum it. Just remember not to resort to DIY stain removal as this can be devastating for your furniture.
Proper Vacuuming Is Fundamental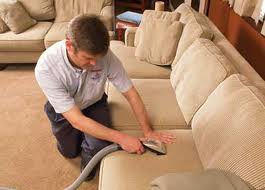 Always remove the cushions before sofa cleaning. This will help you do a good job and lower the risk of coins and other small objects getting suctioned and causing damage to the vacuum. Make several passes with the crevice tool first. Vacuum the tight areas such as the ones under the armrests with greater precision. Don't miss to cover all corners of the cushions too. Once you are done with the crevice tool, you should make several passes using the upholstery attachment.
There are two major rules to keep when vacuuming upholstery. The first one is to do it from left to right so that you can pick up the maximum amount of dirt. The second one is to make overlapping strokes. This enables you to do a better job in less time.
Can you vacuum over and under the buttons? You wouldn't want to risk damaging them. That is why the area under the buttons should be cleaned with compressed air. This couch cleaning technique works excellently for tufting as well.
Using Cleaning Agents Safely
You must use only products which are allowed. These are usually either water-based or solvent-based cleaners which help with stain and odor removal. Even if you have found such a product, you must test it on a small area, which isn't clearly visible. You need to wait long enough for the product to work and inspect the treated area for adverse changes in the color and fibers. Once you are sure that the product is safe, you can use it in line with the instructions provided by the manufacturer.